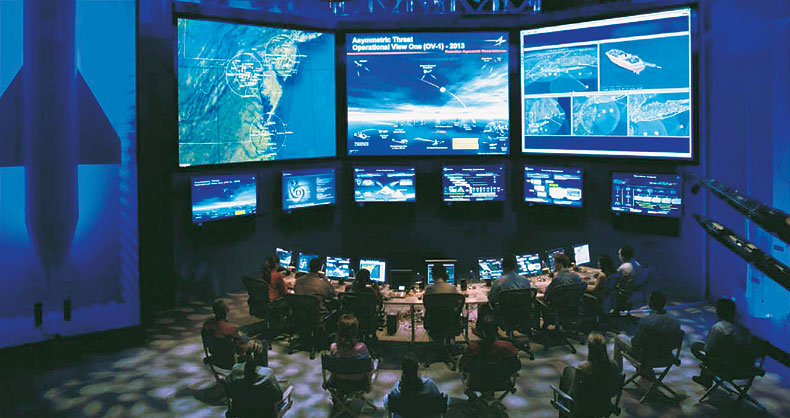 Enterprise Collaboration
Overview
The United States Federal Government and Department of Defense rely on a major U.S. defense contractor to manage large aeronautic, defense, space, and IT programs. Many of these programs conduct real-time collaborative experiments, training missions, or operations that require contribution of information from multiple facilities across the U.S. The ability to view identical situation awareness and operational imagery simultaneously at locations thousands of miles apart is critical to unifying team efforts during these events.
Room Needs Assessment
Staffing
Specially trained staff are located at different facilities. The equipment and staff cannot be moved to a single location. Technicians and engineers manage simulation, training, visualization, and audio visual presentation systems at each site.
Source Inputs
Each site is equipped with computers and image generating equipment that includes standard definition video, multi-graphic windowing processors, and a variety of computer resolutions such as 1024x768, 1280x720, 1280x1024, 1600x1200, and 1920x1080.
Displays Near End
Inputs are presented on a variety of flat panels, large screen projection systems, and videowall displays. Each site has a different display system.
Geography
Data, sensors, training, and simulation equipment is located in many different sites.
Control System
A control system is required at each location to provide a simple interface for controlling the displays and changing the display configurations. Each site should operate independently or as an enterprise solution with multiple sites linked together on a temporary or permanent basis. Devices must be controllable from any endpoint location.
Network
The corporate WAN is an asset intended to improve enterprise efficiency and communication, support customer projects, and demonstrate corporate capabilities.
Displays Far End
Images are presented on a variety of flat panels, large screen projection systems, and videowall displays. In instances where far end displays match the resolution of the original source, images must be presented at native resolution.
Functional Requirements
Each site may contribute 1 to 5 video/graphic signals, which are available for viewing at any of the other sites. The capability to switch between encoding and decoding functions is valuable. The streaming encoders must be capable of preserving the desired quality and holding the bit rate to a defined limit.
System Design Solution
Control System Configuration
This system requires the advanced capabilities of Global Configurator Professional, including: Controller Grouping, Conditional Logic, Local Variables, Macros and Monitors, Touchpanel Mirroring, TouchLink® for iPad.
GUI Configurator will be used for all TouchLink Touchpanel Designs.
Resource Management and System Monitoring
This system will use the advanced resource management capabilities of GlobalViewer Enterprise.
Control System
VN-Matrix® encoding and decoding units are configured and monitored using a Web browser. Systems consisting of multiple units are easily managed by a VN-Matrix Enterprise Controller. An Enterprise Controller can be configured as a primary unit or a backup for mission-critical applications. A single Enterprise Controller can be configured as a system master, managing a local system of VN-Matrix units and other sites during larger experiments. External control systems can interface an Enterprise Controller to manage switching of inputs to outputs across multiple systems as though it is one large routing switcher.
Each endpoint location has an IPCP 505 and a TLP 1000TV to control the local displays. The IPCP 505s are linked together using processor grouping to allow any endpoint to start and control a conference from their location. By using the TouchLink for Web, both the VN-Matrix and the displays at the endpoints can be controlled using any Web browser that supports Microsoft® Silverlight.
Streaming Encoders
Extron VN-Matrix 225 units employing the PURE3 codec are located at the defense contractor's collaboration sites. They are interfaced to simulation image generators and high resolution computers with RGB or DVI-D outputs. S/PDIF digital audio signals are interfaced directly to VN-Matrix units or analog-S/PDIF interfaces are used. Inputs are encoded rapidly in 35 ms at the native video/graphic resolution and 4:4:4 color resolution is preserved to ensure that the single pixel detail of small font lines in computer inputs is maintained.
Recording
VN-Matrix Recorder is interfaced to the network and configured to record and playback streaming data from up to five encoders. Recorders may be located at a central location serving as the primary control site or independently at any location specific audio/video graphic documentation is required. All network data is recorded using Real Time Protocol - RTP using the PURE3 codec, so playback of the streams can be synchronized screen-to-screen.
Network
Local Area Network switches with Layer 3 switching and routing capabilities and 100/1000BaseT network connections are interfaced to the VN-Matrix encoders, decoders and VN-Matrix Recorder units.
Decoding
Extron VN-Matrix 225 units decode the audio and video/graphic signals rapidly with a 35ms decode process. An error concealment system in the PURE3 codec preserves a reliable, stable picture even when bit errors, jitter, or lost packets are experienced by decoders. The VN-Matrix units supply RGB or DVI inputs to flat panels, projection displays, and multigraphic processors such as Quantum Elite or WindoWall.